How to Clean Car Windshield Inside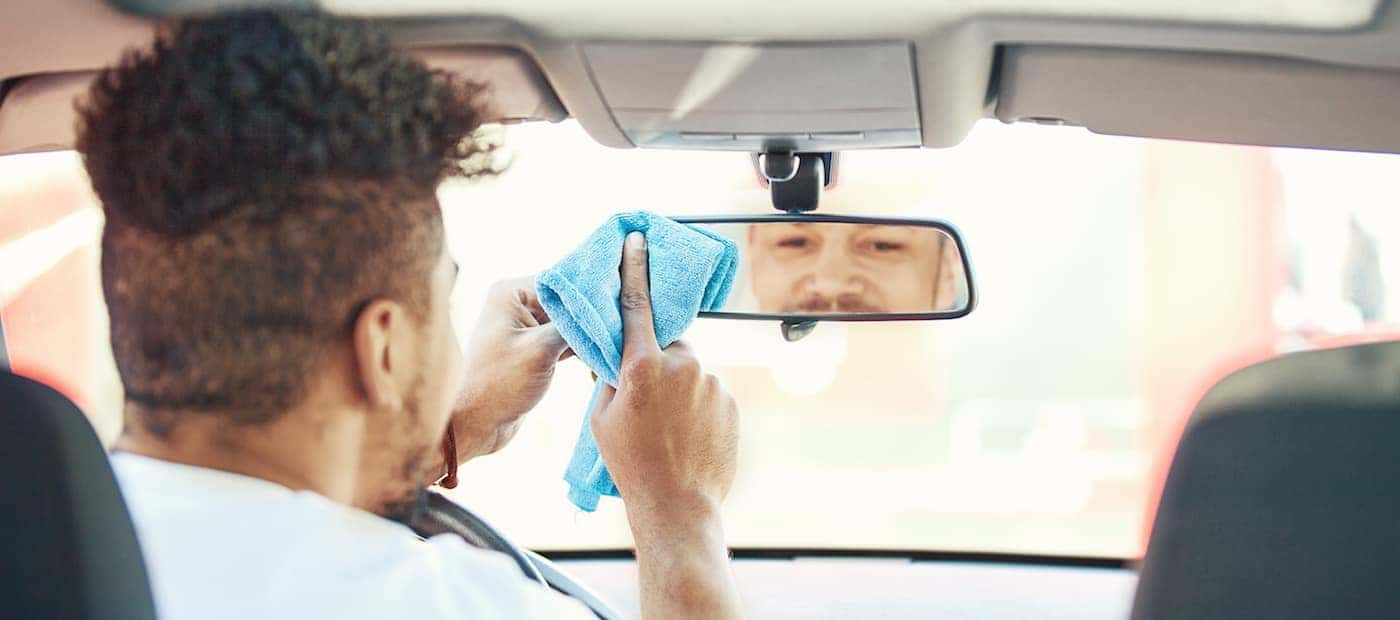 If you want to enjoy that beautiful scenery around Clovis and Madera, then it's important to learn how to clean car windshield surfaces to a spotless shine. But what are the best techniques for cleaning your windows and windshield? In this guide, we'll detail how to clean car windshield and windows inside and out. Let's take a look:
How to Clean Inside Car Windows
Cleaning the glass surfaces inside your car is the same whether you're scrubbing the windows or windshield, so follow these easy steps to enjoy a clearer view during your Visalia travels:
Use a clean microfiber cloth to wipe off the surface of your glass. This removes dirt and grime.
Spray a glass cleaner on your cloth and wipe down the inside of your windows and windshield.
Apply rubbing alcohol to another clean microfiber and wipe down the inside surfaces of the window to remove grease and oils.
One final coat of glass cleaner or glass polish will give you crystal-clear transparency!
Can You Used Windex on Car Windows?
Many customers wonder, "Can you use Windex on car windows safely?" The answer is yes. However, there are a few things to keep in mind.
If you have tinted windows, you might want to weigh your options carefully. Generally speaking, there is no evidence that Windex with ammonia causes issues. Factory-tinted cars shouldn't have a problem. But if you've got a third-party tint, you might want to skip the Windex.
If you use Windex inside the car, you'll need to be extra careful. The chemical compounds in the solution can discolor your leather seats permanently.
And if you ever have any questions about your cleaning products, feel free to play it safe and contact our service department for expert advice!
More Tips and Tricks
Dealing with streaks or paper lint? Swap your paper towels for a microfiber cloth.
Can't reach the corners of the windshield? Pick up a reach-and-clean tool at our parts department.
Want to scrub more efficiently? Use circular motions to cover the surface of the glass quickly and end with vertical motions to prevent streaks.
Find Out More with Fresno Acura
Now you know how to clean car windshield and windows like a pro, but if you still have questions, feel free to reach out to us at Fresno Acura! If you want to ensure the rest of your cabin is clean, you can also read our guide on how to sanitize your vehicle. We're happy to offer advice to our Fresno neighbors at any time. If you'd prefer to let our talented technicians take care of the hard work for you, consider scheduling a detailing appointment with our state-of-the-art reconditioning center!
More From Fresno Acura
Whether it's running errands around Fresno or driving to Clovis, a striking and unique sedan can make all the difference. For those who've been seeking a new 2023 Acura TLX can fill that automotive void. Featuring the distinct 2023 Acura TLX trim levels and the new 2023 Acura TLX packages, there's enhanced connectivity, comfort,…

For those seeking a high-end crossover, allowing you to get more done around Madera, the new Acura MDX has much to offer. Beyond being an SUV for commuting is its impressive 2023 Acura MDX towing capacity. A lot of customers around Fresno and Clovis have been asking about this. Whether as "How much can…

Having lots of options are great, but they can also leave you unsure about what to choose. There are five exciting 2023 Acura RDX trim levels. How can you tell which trim is best suited to be your next new vehicle? The 2023 Acura RDX price is estimated to start at just $41,550. Read…