Hand Car Wash vs. Touchless Car Wash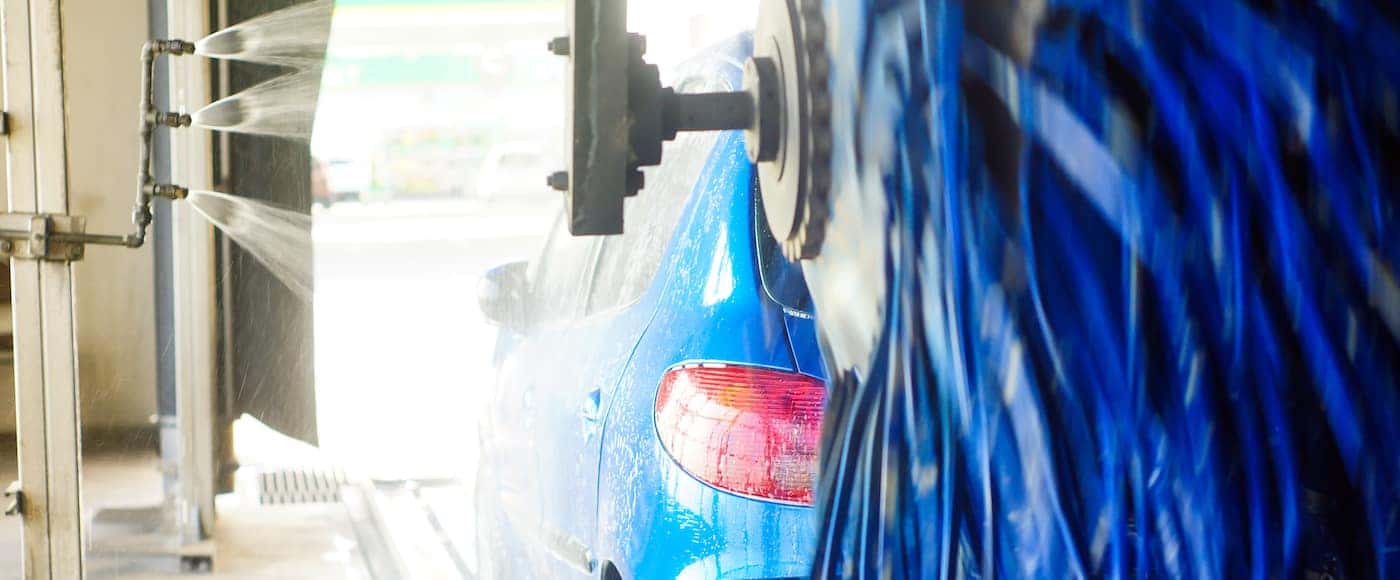 Local drivers know we're always happy to provide servicing tips and tricks, including advice on how to keep your vehicle looking its best. We've found more and more people asking us to compare hand car wash vs. touchless car wash, so we put together a quick overview covering the pros and cons of each option.
Hand Wash Car Wash: Pros and Cons
Hand Car Wash advantages:
Thorough Results: Touchless car washing is faster, but cleaning a car by hand means getting to areas machines can't reach and ensuring any areas that need more attention receive just that. The undercarriage in particular can only be cleaned via a hand wash car wash.
Affordability: Hand washes are very common DIY car care tasks, and that's partly down to affordability. Pick up the recommended cleaning products and you won't spend a penny on any additional labor.
Hand Car Wash Disadvantages:
Effort: Car washing isn't the hardest job in the world, but there's no denying most of us would rather pay a machine to do it instead.
Potential Damage: Use the wrong cleaner or remove debris incorrectly and a hand car wash could end up damaging your paint. Our reconditioning center can take care of such damage, but it's obviously something you'll want to avoid in the first place.
Pros and Cons of the Touchless Car Wash
Hands Free Car Wash advantages:
Faster: A hands-free car wash can be completed in just ten minutes or so, so it saves on both time and effort.
Low Risk of Damage: Going for a touchless car wash means avoiding the risk of scratches and blemishes.
Hands Free Car Wash Disadvantages
Less Thorough: Touchless car washes are great when you're in a hurry, but they're bound to miss some spots and aren't great at removing stuck-on debris.
Risk of Water Spots: If your vehicle isn't properly air-dried after a touchless car wash, you might end up with water spots.
Find Out More About Taking Care of Your Vehicle by Contacting Fresno Acura Today
The team at our service center can always help with anything from the basics of washing your car to performing complex repairs. To find out more or hear about current service specials, feel free to get in touch.
More From Fresno Acura
The 2022 Acura RDX delivers plenty of performance to keep you excited when you're behind the wheel and tackling the Clovis roads. It also provides an exterior design that's sure to turn heads wherever you go. While there's plenty to appreciate with the new Acura RDX, where it really shines is on the inside….

When you're researching the 2022 Acura TLX, you'll often hear about the incredible amount of features that it offers. With a high-quality interior and an exterior design that makes it stand out on the Clovis roads, it's clear that the new Acura TLX has plenty to offer. With that being said, one of the…

While there's plenty to appreciate about new Acura vehicles, electric vehicles are becoming increasingly popular. Fortunately, Acura will likely soon be providing drivers like you with an electric vehicle to help you take on Clovis adventures without having to worry about visiting a gas station while driving a high-quality Acura model. There are plenty…